Natacha Atlas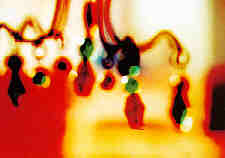 Ma a'arif nash ma qil bel-qulub
I don't know what our hearts are saying to each other
---
After she sailed a long time across the ethno-world-music, participating as vocalist to the english group Transglobal Underground whith which she is still often on tour, Natacha Atlas, comes (again ?) to the oriental music. Since she is born in Belgium with an English mother and an Egyptian father she is able to make the arabic music best known in Europe.

The songs of her album Halim take us away from the rai to Moorish and andalusian arabesques. She had a conspicuous show during the summer 98 in Nyon Paleo Festival on which website you find an extract of the show and an interview.

Her title Amulet became a hit in Beirut. Her following album came out in February 99. It's Gedida (= New in Egyptian Arabic). The French masmedia are now speaking about Natacha so that she recieved a price at the french "Victoires de la Musique" in march 2000. The radios play only "Mon amie la rose", the only song in French. It's nice but the other are quite nice too. It's taking the easy option. Are they afraid to be rough with the public?

Anyway no doubt Natacha will still surprise us and make speak of her.

Some sites I like dedicated to Natacha Atlas (The numer is increasing)

Alan Grave' site (in english) dedicates to WOMAD's festival.
The Page fot Natacha Atlas by Christophe, supposed to be modest, but in fact very complete with fast every day new stuff. In french with a bit in english and in arabic (cool!).
The most long-standing one (as far as I know) Sweeter than any Sweets in french and in english.
---
If you know where to find the arabic text of the songs of Natacha Atlas thank you to share it.
You may also correct my approximate english and specify to me the mistakes and the necessary idiomatic forms.
---

Back to AN OPEN WINDOW TO THE WORLD